Custom-Built Computers, Custom-Tailored Solutions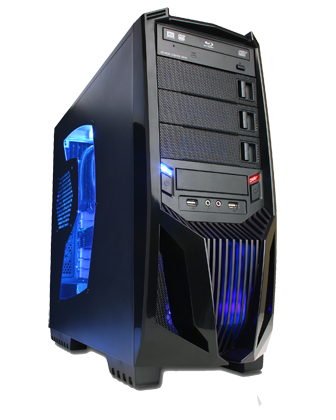 This page lists previous computer listings and projects. Click on any entry for more details.
REFURB HP PAVILION DV6-3257CL LAPTOP - DUAL CORE 2.4 GHz, 4GB RAM - $125
Refurbished HP Pavilion dv6-3257cl laptop. Dual-core high-end enterprise-style laptop. HDMI/HD ready. Also compatible with old-style VGA projectors and monitors for presentations.
HIGH-END GAMING MACHINE, INTEL i5 QUAD-CORE @ 3.5 GHz, GEFORCE GTX 970 - $1401.91
A high-end gaming beast built to last for many years of gaming pleasure! Click the headline to learn more about this machine.
2.66 GHz QUAD CORE 4GB RAM GAMING MACHINE GT 740 - REFURB - $340.98
Previously owned by the University of Florida, this venerable machine features a 2.66 Ghz Intel quad core CPU, 4 GB of RAM and a contemporary mid-level graphics card. This machine is perfect for light to medium gaming and enjoying even new graphic-intensive games with the appropriate configuration of the settings.
VERY HIGH-SPEED DUAL-CORE (3.8GHz) CUSTOM ENTRY LEVEL GAMING COMPUTER - $350.95
With a solid 3.8 GHz dual-core processor utilizing AMD's APU technology, this computer is more than fast enough for the majority of tasks - office work, multimedia enjoyment, and even light to moderate PC gaming. The 64GB SSD makes sure your system boots up like lightning, while the 250GB HDD offers increased storage at a very low cost. This model PC offers slight CPU and GPU performance over the previous similar model sold at $350.
Custom AMD Gaming Desktop, 8 Cores @ 4.0GHz, 8GB RAM, GeForce GTX 760 - $929.98
This machine was custom built for one our clients. The target goal was an $800 computer capable of running GTAV at high settings. ATS was forced to make intelligent compromises to make this client's dream come to life.
REFURB DELL OPTIPLEX 755 2.33GHz DUAL CORE 4GB RAM - VERY FAST - $125
This machine is a fast enterprise-class desktop, equipped with a 2.33 GHz dual-core Intel CPU and upgraded from 1GB to 4GB of RAM. This provides more than enough power for office work and an ample platform for graphical editing. This machine is fairly modern, and well suited to the demands of today. This computer is equipped with a DVD-RW drive for creating CDs and DVDs. It also has an LPT1 port and serial port for compatibility with legacy office equipment.
3.7Ghz AMD Dual-Core Computer with SSD - $350
This computer was originally built for a client who unfortunately was unable to complete their purchase. Their loss is your gain! Equipped with a solid state drive for quick and responsive performance, this compact and relatively powerful machine is perfect for office work, multimedia enjoyment, and even light to moderate PC gaming. We have used this machine ourselves in the past for office work. One year warranty on parts still applicable.
Custom-built 3.1Ghz AMD Quad-Core APU Computer - $401.94
This computer was designed for a client that wanted a computer for a variety of uses - home A/V use, live music performance, and gaming. We delivered a lightning fast quad-core APU with a great graphics driver, 8 gigs of RAM, and a 500GB hard drive. The model was originally intended to feature an SSD, but unfortunately there was no way to work this into the project's budget.